PLANT ENERGY EFFICIENCY
With up-to-date equipment, well-planned maintenance and skilled operation, a plant's energy efficiency can be kept on a higher level throughout its lifecycle. With customised lifecycle upgrades, its energy efficiency can even be considerably increased, which improves the installation's performance. In addition, a boost in energy efficiency decreases emission, reducing negative environmental impact.
There are many means of improving the energy efficiency of a utility plant – from the replacement of a single component to complete modernisation or operation and maintenance solutions. There are also many aspects that affect a utilities plant's energy efficiency, and these need to be examined before choosing the suitable improvement solution. Some key factors are fuel consumption, fuel price, price of electricity in the operating area and the maximum output of the plant.
Bayubali Engineering Sdn Bhd have the capability to perform the energy efficiency improvement for the process plant and mainly in utilities areas.
Our energy team will be able to evaluate the new plant design and existing running plant. At this moment we are focusing on the steam heating systems businesses which is included;
Plant Design Review (PDR),
Pre-commissioning and Commissioning activities,
Optimizing Steam Plant Operation,
Combustion effectiveness study review,
Steam Traps (audit and upgrading process), and
Maintenances and Repairs (including material's upgrading).
Bayubali Engineering Sdn Bhd has been appointed as an agent (reseller) for an established Steam Condensate Removal Device (CRD) and Steam Condensate Recovery Unit (CRU) systems.
Steam Condensate Removal Device (CRD)
CRD is a very special device made entirely of stainless steel and all units are 100% hydrostatic pressure tested of 5-times its full-rated steam pressure.
The CDR has been specifically and uniquely designed to achieve the following;
Ensure optimum and consistent process temperature,
To stabilize inconsistent steam temperature,
To reduce and recover steam losses,
Never fails to open and close, and
High durability,
The end results of the implementation of CRD;
Efficient energy utilization – reduce fuel costs,
Higher productivity – improve profits,
Reduction in maintenance cost,
Elimination of parts replacement,
Work non-stop,
High durability,
Safer work environment, and
Reduce global warming effect.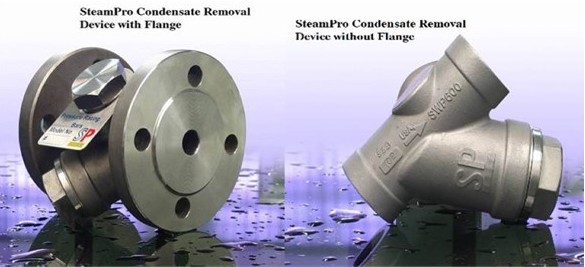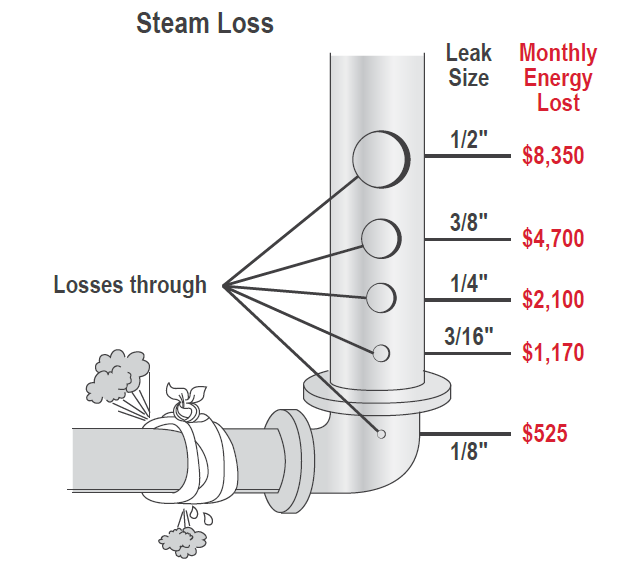 Cost of various sized steam leaks at 100 psi
(assuming steam cost USD10 per 1000 lbs)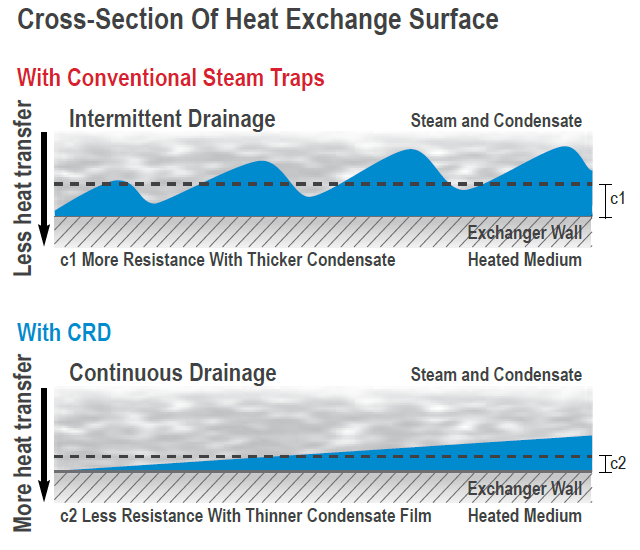 Steam Condensate Recovery Unit (CRU)
The CRU is a closed vessel system that collect condensate from steam line and pump much higher condensate temperature back to the boiler directly so that the boilers don't have to work as hard, thus saving fuel. CRU recovers condensate at a much higher temperature condensate than the usual pump in the market.
The SP-CRU system recovers flash steam that was normally discharged to the atmosphere and not returned to the boiler. The flash steam recovery can be used to your advantage and result in energy or fuel savings.
Along with energy conservation, the SP-CRU includes the following advantages:
Recovers condensate at elevated temperatures directly to boiler, saving energy and improved efficiency with reduced power consumption.
Reduction of the volume of make-up water and water treatment chemicals in an obvious saving.
Increase in boiler feed water quality leads to an increase in steam quality that in turn reduces the required blow down volume thus further increasing the energy savings.
Increased water temperature decreases the oxygen content of the steam: this reduce corrosion to the piping and equipment that reduce time repair and maintenance.
Easy construction and installation with minimum space required.
The system is designed to withstand high temperatures and pressures while also maintaining an efficient continuous discharge pressure
To discharged remaining flash steam can be recovered to preheat boiler make-up water.
GREEN ENVIRONMENT? Reduced or eliminate flash steam release to the atmosphere.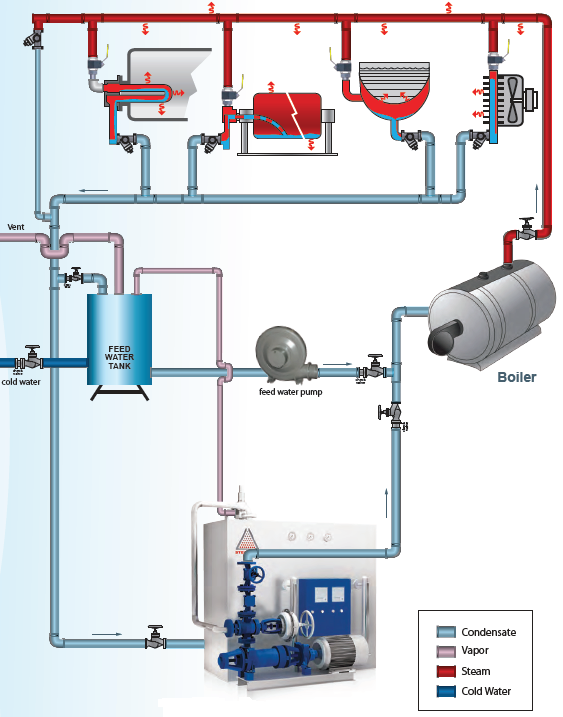 CRU is a by-pass system and no modification will be done to the existing system